June 7, 2018
Legislators Pass State Budget
The Budget Process and the Short Session
The 4th Branch: Next Steps
Statewide Polling
AskNC Article (Featuring Federal Co-Chair Robert Allen)
Honoring Capt. Ira Schwarz, USN (Ret.)
Legislators Pass State Budget
State legislators in the NC General Assembly unveiled their adjusted state budget for 2018-2019 on Monday evening (Memorial Day), May 28.  After review by lawmakers in both the House and Senate on Tuesday, May 29, both chambers passed it on Friday, June 1. The legislation was sent to Gov. Roy Cooper, who on June 6 vetoed the budget bill. However, with such large GOP majorities in the House and Senate, the legislature will easily override his veto.
The state budget is available online for review.  "Special Provisions" include budget language which incorporate new laws or changes in the wording of current laws. Special Provisions are available for review online HERE. The "Money Report," which details increased spending or cuts in the budget is available for review online HERE.
The Budget Process and the Short Session
Although the "Short Session" is always short, this session has moved exceptionally fast. From before it even began, legislative leaders stressed their goal to end as early as possible, with the adjustments to the biennial budget as their top priority. What that means, is for most advocacy groups like The 4thBranch, the chance to advance our legislation (H103), encourage debate, and eventually have thoughtful consideration during this short session was severely hampered.
While there has been criticism about the rushed session this year, there has been more vocal criticism regarding the budget process – from both the left and right. This year's budget was introduced and mostly debated in conference committee, and no floor amendments were allowed. Instead, legislators could only vote AYE/NAY in an up/down vote for the bill as presented. This removed the normal debate and transparency associated with the budget – a $23 Billion piece of legislation.
Below are two opinion pieces from the Right (Civitas Institute) and Left (NC Policy Watch):
Civitas: Sound Policy Comes From Good Debate: What's Missing From This Year's Budget Process
NC Policy Watch: A rushed, closed door budget process doesn't align with NC values, can't effectively identify NC priorities
The 4thBranch: Next Steps
Our priority over the next few months will be to build our advocate base – because numbers matter. With nearly 6,000 e-advocates, most of whom are retirees, are goal is to shift to recruiting current state and local government employees. There are larger numbers of these workers in the state, and this issue should matter just as much to them.
Recent Polling
On May 20, live-caller statewide polling of 600 registered voters was undertaken on behalf of the 4thBranch. Respondents were told of North Carolina's current policy to tax retirement benefits for some but not all of the state's military, federal, state and local retirees. They were then asked:
Would you favor or oppose current legislation that would eliminate the state income tax for all retired public employees?
Overall, 50.7 percent were in favor, however Republican voters were more in favor of a repeal as were voters under the age of 40.
Respondents who said they were against changing the law were asked a follow-up question:
Would you still be opposed to the legislation if you knew that eliminating the tax would strengthen our state's economy by encouraging more retirees to remain and others to relocate to North Carolina?
Overall then, given the economic argument, support for changing state law increased to 60 percent of those voters surveyed, only 18.6 percent of voters remained opposed.
AskNC Article
In late May, the NC Center for Public Policy Research published an article "AskNC: Why does North Carolina tax the pensions of some military retirees?"  This series of AskNC articles responds to reader questions, several of which questioned why North Carolina, unlike many other states, taxes some Military pensions. Our esteemed 4thBranch Federal Co-Chair, Robert Allen, is featured in the article.
Honoring Capt. Ira Schwarz, USN (Ret.)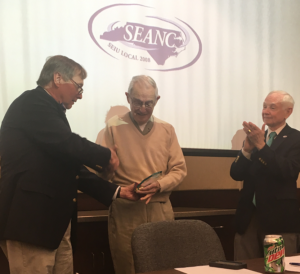 At its April Board meeting, The 4th Branch took time to honor the years of service by Capt. Ira Schwarz, USN (RET), in advocating for Military and government retirees in North Carolina. Capt. Schwarz was a founding member of the 4th Branch and previously was a proponent for the lawsuit Bailey vs. State of North Carolina, which decided that military, federal, state and local government retiree pension income must be taxed in the same manner – and that all those retirees who were vested in a qualifying retirement system by August 12, 1989 would not be taxed on their retirement benefits.
Captain Schwarz served a full career in the Navy, including tours in Vietnam and a final assignment in Washington, D.C., as Deputy Director for the Navy Space program. He retired from the Navy in 1989, and embarked on a "second career," as a tireless advocate for federal and state government retirees in North Carolina.
Initially, Capt. Schwarz organized the Federal Retiree Tax Equity Task Force to fight taxes levied by states on military and federal government retiree benefits – signing up more than a thousand plaintiffs and over 13,000 members along the way. Although this initial effort was blocked at the NC Supreme Court, it led him and others to form The 4th Branch in 1995.
In 1998, under the Bailey decision, the North Carolina Supreme Court finally ruled in favor of ALL government retirees, and determined that government retirees in North Carolina were owed a refund of illegal taxes collected – a total settlement of $799 million dollars. Capt. Schwarz was appointed by the Court as Director of the Settlement's administration, and under his leadership ALL refunds were paid to ALL claimants in the Bailey Case by 2002. In total, more than 183,000 claimants received a refund of all taxes they paid to the state of North Carolina on their retirement benefits between 1989 and 1997.
Thank you to Capt. Ira Schwarz for his continuing efforts to protect the hard-earned retirement benefits of those who've served our nation, state and local communities.